The assumption that you will experience total solitude during your Boundary Waters Canoe Area camping trip is an easy one to make; in fact, it's probably one of the first things that comes to mind when somebody thinks of the BWCA wilderness.  This belief is most likely based on what people envision when they hear the word wilderness and typically that image is not far off.  Though it is a designated wilderness the BWCA averages approximately 250,000 visitors annually making it one of the most popular wilderness areas in the United States and those numbers are concentrated around three months; June, July, and August.  These "crowds" can easily destroy your expectation of having a lake all to yourself, getting your pick of the best campsites and never seeing another human.  Obviously referring to the "crowds" is relative but it really can feel quite busy out there on the wrong day and in the wrong place.  I'm not trying to disparage the wilderness but there are some things to keep in mind if you're looking for solitude and trying to avoid busy portages or having to race to the last available campsite in the dwindling light.
Choose the Right Time to Visit the Wilderness.
Planning an early spring or late autumn BWCA trip is really the only sure fire way of ensuring yourself a quieter experience without having to paddle 20 miles into the back country.  Keeping an eye on the ice conditions and getting on the water immediately after it goes out will provide you with a great opportunity to pretty much have the park to yourself.  The same can be said about a late fall trip, and by late fall I mean after the leaves have dropped because weekends when the leaves are turning are just as busy as July and August.  The added bonus to October paddling is not having to pay for a permit or worry about entry point availability.  Basically if you don't mind leafless trees these two times of year are your best bets for solitude.
As with the time of year playing a role in how many fellow paddlers you will encounter the time of week you start your trip plays a part as well, to a point at least.  If you are flexible consider starting your overnight camping trip on a Monday, Tuesday or Wednesday and plan on exiting on the weekend.  The most popular days to enter the wilderness are Thursday and Friday.  As spring moves into summer those recommendations diminish in value as the popularity exceeds any schedule and a Tuesday is becomes just as busy as a Saturday.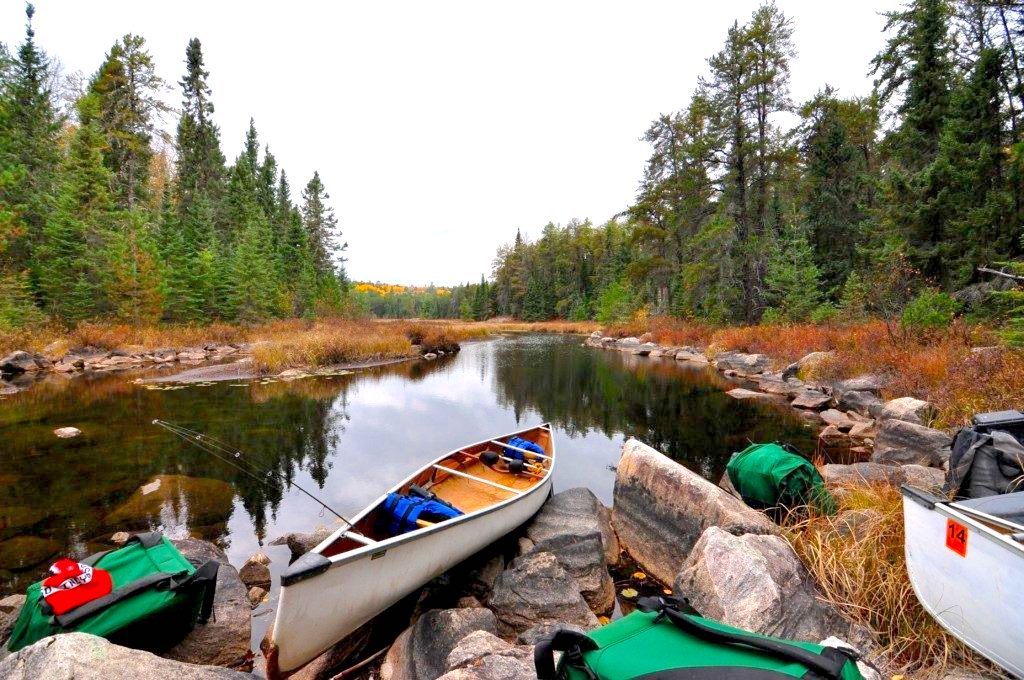 How Much Are You Willing to Work?
One of the most common requests we get from prospective paddlers while planning their route is that they don't want to see very many people and they don't want to portage very much.  When those requests come right before telling us they want to be on the water the first weekend in August it can be hard to hold back a laugh.  Without coming off as condescending we have to explain that a scenario in which solitude and easy access coexist is essentially impossible for most of the open water season in the BWCA.  Putting multiple miles and portages between you and your entry point before calling it a night is one of the only ways to ensure your experience will be a quieter one in the busier summer months.  As a rule, you should know that the closer you are to an entry point the more people and congestion you will find, mostly because the access is easier but also from day trip paddlers who are fishing or exploring.  There is one exception to that rule but still involves asking yourself the same question, "Are you willing to work?", because not all entry points are created equally.
Some entry points in the Boundary Waters allow you to put your canoe right into the water and paddle to campsites without portaging, some allow you access to the water immediately but there is a portage or two between you and any campsites, and some entry points require you to portage before you even get a glimpse of water.  That third option is really what you need to look for in an entry point if you are trying to get away, and the longer that portage is the better.  Entry points that are off the beaten path and require more time to drive to are also places that see less traffic, and if you can combine difficult access with a long portage to start your trip then you'll really be cooking with gas (I'm looking at you Morgan Lake).
There is one other thing regarding the entry points to be mindful about in your search for a perfect campsite on a lake that you have all to yourself; daily quotas.  Securing a permit for an entry point that only allows one group to enter per day is a way to ensure you won't run into very many people, with some considerations of course.  Typically, these entry points only allot one permit per day because of a paucity of campsites and just because you are the only one entering today does not mean the person that entered yesterday isn't base-camped on that single campsite you had your eyes on.  You can also never guarantee that somebody isn't finishing a trip at your entry point with only one daily permit and has filled a campsite in the area.
Dead-ends and Cross-roads.
This short list of ways to increase your odds at finding solitude started with sure fire ways and will finish with a way that will only increase your chances in general.  Regardless of the time of year, how close you are to an entry point or which one you start at there will always be lakes in the BWCA that get used less than others; dead-end lakes (lakes with only one portage in or out).  Most people plan a trip with a planned route in mind and almost none of them include a stop at a dead-end lake.  Obviously the prospect of portaging into a lake just to portage back out the same way does not appeal to very many people, especially if you are travelling from one point to another in a certain amount of time, and because of this they are typically quieter lakes with more regularly vacant campsites.  With that being said there is nothing more disappointing than heading for that single campsite on a dead-end lake only to find it occupied upon arrival.
On the flip side there are lakes that inevitably see more paddlers and campers, even ones well away from entry points; cross-road lakes (clearly the roads are wet).  These are lakes that have multiple portages into and out of that find themselves at the intersection of popular routes in between a chain of lakes that might not have as many campsites.  These lakes are typically packed with campsites and though you probably won't have trouble finding one open I still wouldn't wait till late in the day to snap one up.  Unless you're at one of these lakes the day after the ice goes out I can guarantee you will be sharing the lake with other campers.  There aren't a ton of these cross-road lakes but you'll know them when you see them on the map.
With all that being said there are probably a large number of people who don't really care one way or another whether they see a lot of canoeists during their trip to the wilderness.  There is an aspect about running across other paddlers on the water and on portages that is fun.  Interacting with strangers who are also enjoying the wilderness and sharing your plans for the day or what the fishing was like on the lake you came can definitely add to the experience.  In the end though there is something about having to wait in line to use a portage or paddling by numerous occupied campsites as the sun is setting that takes away from the experience and I prefer to do my best to avoid those moments.