What route is best?
The difference between a good canoe trip and a great canoe trip is the route. There are hundreds of possible routes and each route is unique. At Clearwater BWCA Outfitters we help you choose a route that fits your needs and wants.
We can help choose a route that is perfect for your group.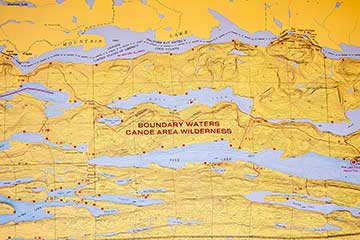 Ask yourself:
What are the ages and physical conditions of the people in my group?
Are we more interested in a relaxed pace or a strenuous one?
How important is fishing to the group?
Are specific fish species important to the anglers?
Would we enjoy swimming in a waterfall?
Do we want to hike and canoe or only canoe?
Do we want to camp at a different site every night or have a base camp and take day trips away from this camp?
Am I after some great photos?
How challenging do I want my portages to be?
Do we want total seclusion?
At Clearwater BWCA Outfitters we pride ourselves on customized trips. We know that you spend a great deal of time planning and preparing for your vacations; so do we. We will go over your interests and make trip suggestions that match your interests.
Answers to some of our most asked questions:
Kids do great on trips!
Campsites are on a first come-first served basis
Groups are limited to 9 people per permit
With clear route details, good instructions, and a detailed map, you can enjoy your trip to its fullest!
Explore Routes!