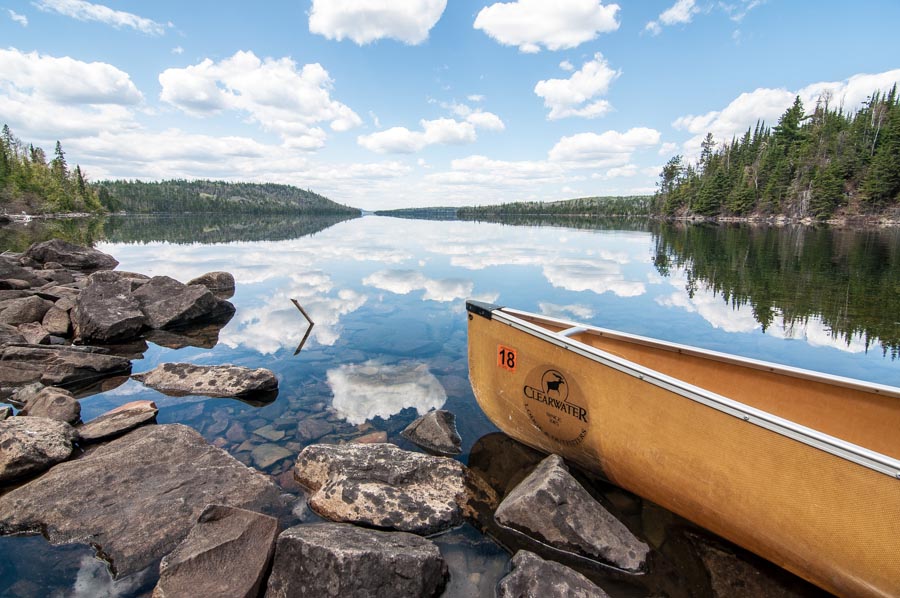 It seems like everything in life these days comes with a seemingly endless list of choices, and unfortunately Kevlar canoes are no different.  Fortunately, these choices are made available to maximize your time on the water based on what you will be doing with the canoe, your level of experience and who you will be paddling with.  There is a canoe for just about every situation out there and we try to carry a wide variety from a number of manufacturers to address the ones people will most commonly come across in the Boundary Waters.  Generally speaking, all of the canoes described below are Kevlar and best suited for flat water BWCA style paddling.
Minnesota II- 18'6″ 42lbs
This is my go to canoe and you will rarely see me on the water in anything else and in my opinion is the gold standard all other canoes should be measured against.  This opinion is based on my tripping style, which is almost exclusively on efficiently covering as much water as possible, with little to no fishing from the canoe itself.  This is an extremely streamlined canoe which provides for fast travel even when loaded down.  While easily maneuverable in straight lines once up to speed its length and complete lack of rocker (the curvature of the hull measured from bow to stern) make it a challenge to navigate in tight spaces; this is not the canoe to take down the Frost River.  Its narrow body does feel a little bit claustrophobic for people of larger build, especially in the stern and I regularly get reports from people that they felt it was "tippy."  While this may not be the best canoe to start with if it's your first time in one, it should be what you aspire to paddle.
Sprit II – 17' 42lbs
I spent a month paddling Quetico Provincial Park from the back of a Spirit II and couldn't have been happier.  It handled just about everything a trip of that length threw at it, and could easily be renamed the Wenonah Harmony.  The perfect blend of maneuverability and efficiency makes it an all around canoe for just about any trip.  While not as fast as a Minnesota II its 1.5" of rocker allows for quicker turns and flexibility in tight spots, or turning around to retrieve that snagged lure.  This is a canoe for both beginners and experienced paddlers and the model I recommend to most people.
Boundary Waters – 17' 42lbs
Clearly a canoe named after the park it was meant to paddle was designed with it mind and it offers the largest capacity for gear of any canoe we rent.  With this added capacity comes extra width and drag making for slower travel.  It is another incredibly well rounded canoe that is perfect for a day on the water without gear spent trolling for lake trout, or loaded to the brim in anticipation of a week long journey into the heart of the BWCA.  The only real difference between this and the Spirit II is it has more capacity for gear, and if you had to go either way I would recommend the Spirit II.
Champlain – 18' 46"
The Champlain is truly a boat.  It is a massive craft that offers an ungodly amount of space for gear and an almost flat bottom that makes for one of the safest paddles around.  This is a canoe for big people with a ton of gear, first timers, and fishing trips; it is incredibly stable.  It has a very specific purpose and it makes sense for a lot of people, but if I were to be honest it paddles like a log, turns like a freight train and makes me question the whole idea of paddling.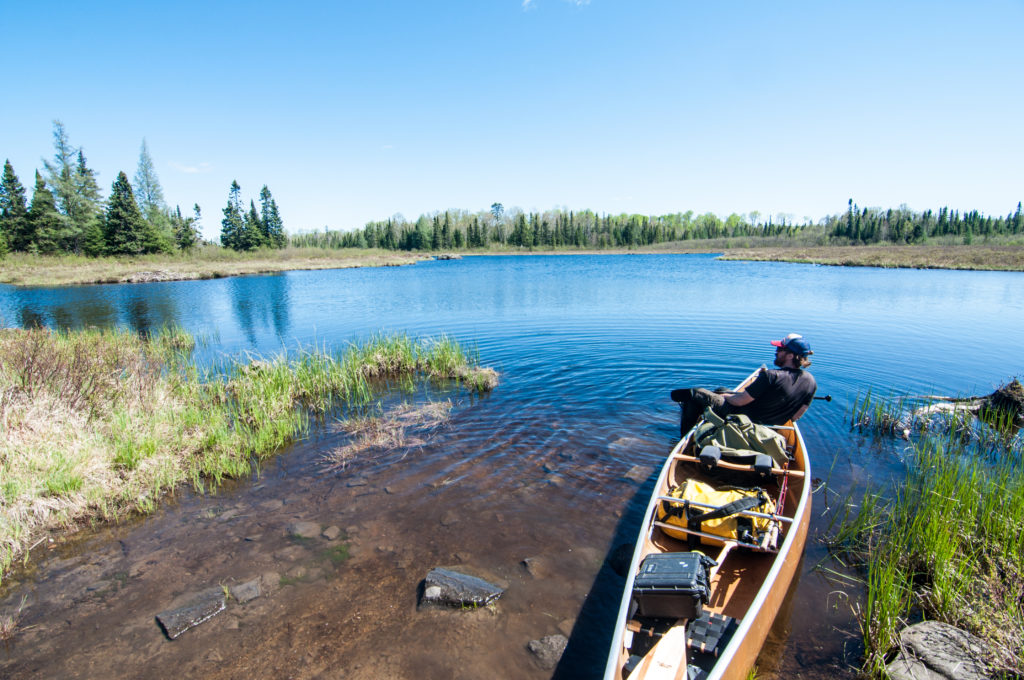 Quetico 17 – 17' 3" 44lbs
The Quetico 17 is the only model we carry from the Atikokan, ON based Souris River Canoes (besides the 18.5 which is essentially a three-person version of the 17) because it's their best and offers another level of comfort in rough waters that none of Wenonah's models do.  Not that it makes a difference to the paddler who is renting, but one of the main reasons we send these canoes out is their longevity.  The wear and tear exacted on rental canoes over the course of a summer can sometimes be excruciating to watch.  Our rental canoes experience a lifetime of paddling in two summers and our Souris Rivers consistently spend more years on the water than any other.  This is their flagship model and they aren't afraid to call out the competition on their website disparaging the "lowrider" design of what I can only assume is the Minnesota II.  The Quetico 17 does install its seats a little higher and its overall buoyancy does provide a paddling experience that rides atop the waves better in rough seas than any Wenonah model.  I can personally attest to taking on water plunging into massive rollers in a Minnesota II, while I have cruised safely across comparable waves in a Quetico 17', though in both situations I probably should not have been on the water.  While both MN II's and Quetico 17's paddle about the same in most conditions, the Quetico 17 is far safer in conditions that you really shouldn't' be paddling in to begin with, so take that for what it's worth.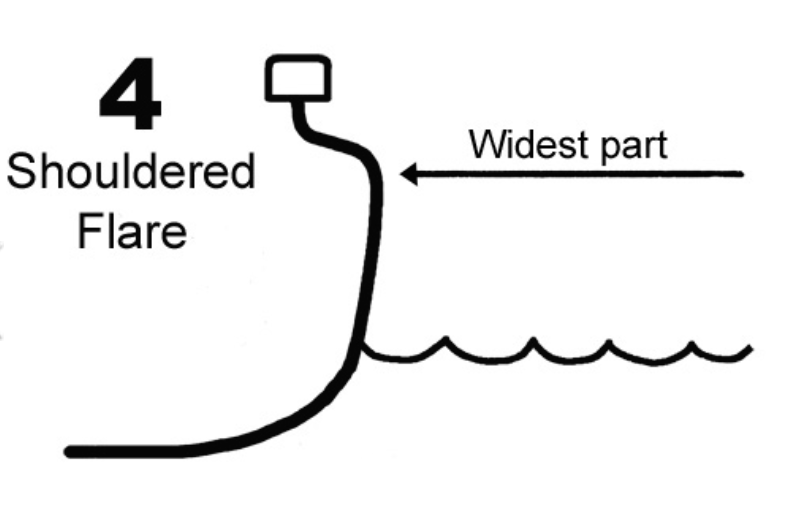 Northwind 17'6" 42lbs
Long story short: Northstar Canoes is the reiteration of Bell Canoes with Ted Bell behind the design of most of these canoes.  The overall dynamics of these canoes are quite similar to both the MN II and Quetico 17, making it incredibly efficient at tracking and putting miles behind you.  It stands up to rough water about as well as any canoe out there, just about as well as the Souris River Q 17.  What really sets this boat apart is it's "shouldered flare" which is a very specific technical aspect of a canoe that makes the most sense on their solo canoes where the paddler is sitting in the center most point but does make a difference on a tandem canoe as well.  Essentially Northstar Canoes "shouldered flare" is a balance of canoe flare and tumblehome.  While flare on a canoe helps to deflect water and increase stability it also makes it harder for the paddler to comfortably reach the water as the widest point on the canoe is at the gunwales.  Tumblehome on a canoe is when the width between the gunwales is less than the overall width of the canoe and generally boosts the crafts weight carrying capacity and makes it easier for the paddler to reach the water.  While a canoe with tumblehome does become more instable and less seaworthy shouldering the flare along with tumblehome greatly diminishes the instability concerns, and will keep you from smashing your knuckles while paddling.  This shouldered flare on the Northwind makes for some of the most comfortable and safest paddling of any canoe when it is loaded with gear.  The tumblehome on these canoes makes for very "slippery" paddling when empty, meaning that when not loaded this canoes sits on top of the water so much that you will notice a lot of side slipping in even the slightest wind making for a lot of extra work to maintain course.  Their website says this canoe weighs 42lbs, which is as light as any other tandem canoe we carry, but it always feels lighter than that.  This is an excellent choice for just about any multi-day BWCA trip, just not your empty load day trip.
Either way what ever kind of canoe you find yourself in one thing will remain true, you're paddling.