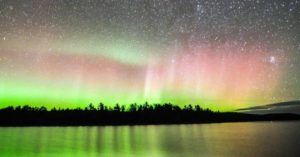 By now you're excited to take a canoe trip in the BWCA. Let us know what kind of trip you are looking for and we'll start crafting a perfect trip for you. Fill out the Outfitting Request Form, email us, or give us a call.
Where is Clearwater BWCA Outfitters?
Clearwater BWCA Outfitters is located halfway up the Gunflint Trail on Clearwater Lake. Paddlers can access the BWCA directly from our dock into entry point #62. The lodge is the oldest remaining whole log structure in the entire region and is listed on the National Historic Registry. Clearwater Lake is believed by many to be the second clearest lake in Minnesota, second only to Lake Superior. Along with our outfitting services and overnight pre/post trip bunkhouses, we have 11 cabins and 5 rooms in the lodge that can be rented if you want to experience the BWCA without sleeping in a tent. Call or email today to inquire about booking a cabin or lodge room.
Let us help plan your next Great Adventure